Central Missouri Electric Cooperative is dedicated to a right-of-way program that focuses on our members' safety and provides cost-efficient and reliable electric service. Trees and limbs falling on electric power lines are a primary cause of power outages and blinks. This results in an inconvenient interruption in service and an added expense to members' power bills. A tree that grows into electrical conductors presents a potential hazard to you and others if it becomes energized when contacting a power line.
CMEC has a minimum 15-foot right-of-way on either side of a line for primary, over-head electric lines and an 8-foot right-of-way on either side of service overhead lines. There is also a 10-foot clearance from doors for pad-mount transformers and junction boxes and a 4-foot clearance for the sides of transformers and junction boxes. This includes bushes, shrubs, trees, or buildings that can hinder lineworkers from using hot sticks to work with energized equipment. Once the right-of-way is established, it is maintained with an environmentally friendly herbicide treatment which encourages slow re-growth.
The U.S. Department of Agriculture Rural Utilities Service requires electric cooperatives to have effective tree trimming of Right-Of-Way Clearing and Maintenance Programs in place. Missouri Statute (section 537.340 RSMo) provides every supplier operating electric transmission or distribution lines with the authority to maintain the same by trimming, removing, and controlling trees and other vegetation posing a hazard to the continued safe and reliable operation thereof.
Right of Way Resources
Placing Trees
Every tree species has different height, width, and spacing needs. When you plant a tree, choose the right tree for the right place and purpose. Carefully match your tree choice with the site conditions and desired functions. Also consider its proximity to other trees, buildings, utilities (above and below ground), shade, screen, wildlife, cover, etc.
No trees should ever be planted within 15-feet of a power line's center on either side. Small or medium trees with a height/spread of 25 to 40 feet can be planted 40-feet or further from a right-of-way. Examples of these trees commonly found in Missouri include: Washington hawthorn, golden rain tree, eastern redbud, American arborvitae, dogwood, star maganolia, crabapple, lilac. While these trees typically do not grow larger than the designated measurements, it is important to remember trees can always grow larger than they are expected to. These trees may have to be trimmed or removed if they grow into the right-of-way.
Large trees with a height/spread of 40-feet or more should only be planted 50-feet or farther from a right-of-way. Some examples of large trees include: maple, oak, spruce, pine, birch, sweetgum, linden.
Trees can also be used to help conserve energy. Dense trees, like evergreens, can be planted on the north or west side of properties to serve as windbreaks. Trees that drop their leaves in the fall can be planted on the south and west sides of houses to provide shade in the summer and allow in sunlight in the winter.
Underground Lines
It is also important to remember underground power lines when digging to plant a tree. Pad-mounted transformers are connected to primary high voltage lines and secondary lines that can extend in several directions to distribute power to homes and businesses. It's important to call 8-11 before you dig, plant shrubs or trees, set fence posts, or install sprinkler systems to ensure no contact with underground lines is made.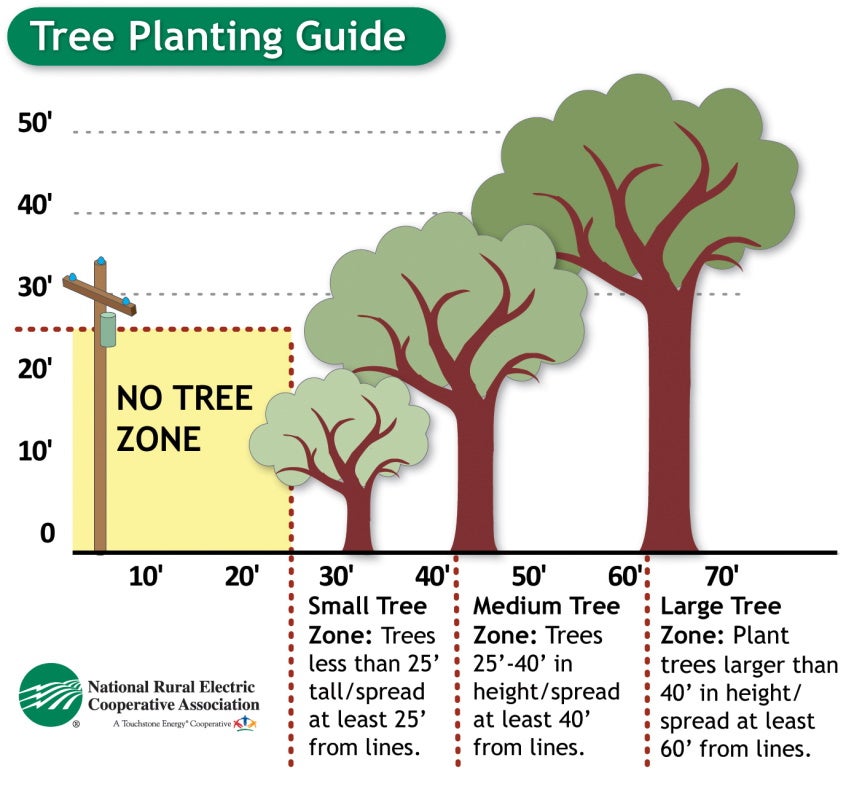 Frequently Asked Questions
If a tree falls within the 15-feet right-of-way or could possibly fall into a line if trimmed, it should not be cut by a member or a service hired by the member. Trees and branches touching or even near a power line can become energized. If touched by a person the electricity can then easily travel through the person to the ground, causing serious injury or death. The cooperative's contractors are trained to deal with these dangerous situations and are equipped with the proper personal protective gear to keep themselves safe.
Additionally, right-of-ways must remain clear for lineworkers to come and perform necessary maintenance and repairs on lines and poles. Trees, even trimmed out of the lines, make this difficult or sometimes impossible to do.
The cooperative operates on a 7-year, total-system clearing cycle to maintain right-of-ways. However, if a problem tree is identified by the cooperative, the problem tree(s) may be taken down immediately.
Each tree removal situation is different, but there are some things most members can expect to happen if their tree(s) need to be removed by the cooperative.  If a tree or trees are designated as needing to be removed by the cooperative, the member will always be contacted; either in person, or via phone, email, or mail.
If a tree is not an immediate danger or emergency, the member will be given 48 hours after first contact before their tree(s) are removed.  However, a member can give permission for their tree(s) to be removed sooner.  Members should not attempt to trim their trees during the 48 hour period.  If a tree has been identified as needing to be removed, it will be removed whether trimmed or not.  If the member does not respond within 14 days of initial attempted contact, the tree(s) will be removed without speaking with the member.
If a tree is identified as being an immediate danger to people or electrical reliability it may need to be removed within a few days.  In emergency situations, the tree(s) will need to be removed the same day they are identified.
While the tree(s) are being removed members can expect to see bucket trucks, wood chippers, other cooperative vehicles, and workers on their property.  Contractors with the cooperative should have a CMEC logo magnet on their truck, identifying they are with the cooperative.  The time for tree removal depends on the size of the tree(s), the number of trees, and if they are in contact with lines or poles.
Much of the tree(s) will be chipped.  Anything unable to be chipped will be cut into firewood length or left as logs--per the member's request.  The cooperative will also cut the stumps as low as possible, but will not remove them.
Non-transplantable trees removed by the cooperative which were located in a manicured yard, within 200 feet of the primary structure of a residence may be considered for cost-share compensation. These are evaluated on a case-by-case basis.